When Google, arguably the world's most powerful internet company – and a company legendary for hiring the smartest engineers in the world – launches its own social network, you'd think the hotel marketing community would immediately jump on the bandwagon. We did take notice. There were only two problems:
Google tried this earlier with Google Buzz – and failed
We are still trying to take advantage of the opportunity on existing social networks
Many of us, while curious, were reluctant to jump head-first into this new network when it launched in June 2011. But a number of important things have changed since then, making it now a powerful tool in any hotel company's social communications program.
In this quick guide, we're going to look at some practical ways your hotels could use Google Plus. The genesis of this article was my conversation with Chris Brogan and the Roger Smith team (full story here), and I highly recommend you read Chris's book, Google Plus for Business, for a complete introduction. After experimenting, testing and researching on my own over the past few months, I put together this summary of some of the most relevant issues for hotels. Let's jump in….
"Why Should I Care About Google Plus?"
Apathy because of the reasons explained above have been, and continue to be, the single biggest objection for individuals and businesses using and adopting the network. But this question also comes up when considering any new technology: Why should I care? What's in it for me?
First, think of the enormous platform Google has built on the web. If you're like me and millions of other businesspeople, Gmail is your email platform for work and personal email, you create and share documents in Google Docs, watch a video on YouTube, and then head back to the homepage two minutes later when your co-worker tells you to "just Google it." When you tie all of these factors together, you can see the extraordinary opportunity Google has to create one seamless experience. This integration will only increase the value for businesses over time.
Second, as I write this in February 2012, many users on the network still might be classified as "early adopters." The sort of people who jumped on Twitter and Facebook before it became popular. By getting in early, they established themselves in those networks and built an influential following. The same opportunity to connect with early adopters – and leverage their influence – now exists on Google Plus. Savvy hoteliers are moving quickly to establish themselves on this network so that their following grows as the network grows.
Third, "Circles" – the network's key differentiator – allow you to develop highly curated lists of people to receive updates from, providing the increasingly valuable ability to filter through the noise and find relevant information. It also allows laser-focused sharing options to deliver the right messages to the right people – increasing your relevance (and value) in the eyes of your audience.
Fourth and finally, Google more or less forced business to get involved when they made Google Plus an integral factor in how they display their search results pages. (Videos: How Google+ Affects Hotel SEO.) The fact that Google owns the #1 and #2 most popular search engines on the internet – Google.com and YouTube – providing the portal to how many people shop and discover things – emphasizes the importance of this. So if for no other reason, use it for search engine optimization.
Business Pages on Google Plus
When launched, Google Plus was exclusively for individual people. Forward-thinking organizations like Ford and Coca-Cola hacked together company pages from individual profiles – even though it technically violated the terms of use at the time. But Google opened up to businesses on November 7, 2011 – and these pages publish differ from individual profiles in a few key ways. You can read the full details from Google, but the core things to know include:
Businesses cannot "Circle" (circling is like "following" on Twitter or "liking" on Facebook") and communicate with people until those people have circled the business. (Businesses can circle other pages, though.) So communication is entirely opt-in. You must earn attention by being interesting.
Pages cannot "+1″ other pages or content on the web. (But they can +1 specific content on pages.)
Pages share information publicly by default.
Google Plus has no algorithm like Facebook's Edgerank. When people add you to their circles, they will always see your public posts. On Facebook, the visibility of brand posts  is often severely limited, with brand posts reaching only an average of 17% of their fanbase.
Using Google Plus to Connect People
1) Video chats – "Hangouts" – set Google Plus apart from other social networks, and is one of the most interesting features. It puts the "social" back into social networking. I see a number of uses when face-to-face communication is important:
This could be used by a hotel concierge or for providing customer service. You might host planning sessions with guests and curious travelers in a hangout. (Dell was an early adopter for using Google Plus for customer service.)
This could also be used for sales. Your sales team can use hangouts for presentations and meetings with people who may be spread out across many locations.
2) For news announcements or public relations. As on other social networks like Twitter and Facebook, social networking is changing the way public relations is done. Hotels can encourage discovery by journalists by posting interesting content, building relationships directly with journalists and bloggers, and providing the inside story. Hosting a vibrant community on a social network is also a sure sign that what you're building is popular – and deserves media coverage.
3) For internal communication and collaboration. Some managers encourage staff members to set up Google Plus accounts so that they can communicate with and share stuff with each other – especially if the team is working from different locations. Working with teams in remote locations also becomes easier with hangouts – which support real-time collaborative editing of Google Docs.
Setting Up Your Google Plus Presence
Mashable and Social Media Examiner have good step-by-step tutorials, but I wanted to focus on a few high-impact areas for hotels…
Fill out your profile completely. Add all your information, but think about the impact. This is marketing. Grab their attention from the start. Use great copy. Would you rather connect with a page calling themselves "The Best Budget Hotel in San Diego" or one that touts "Live Like a Local – We Share What's New and Cool in San Diego" (what Kimpton's Palomar San Diego hotel successfully used on Facebook and elsewhere)?
Upload photos to fill out the scrapbook slots. A few examples….
Create a suggested circles list. Jeff Korhan recommends creating a prioritized list of circles you suggest people place you in. It helps them understand your focus and the content they can expect from you. Here's how Jeff does it: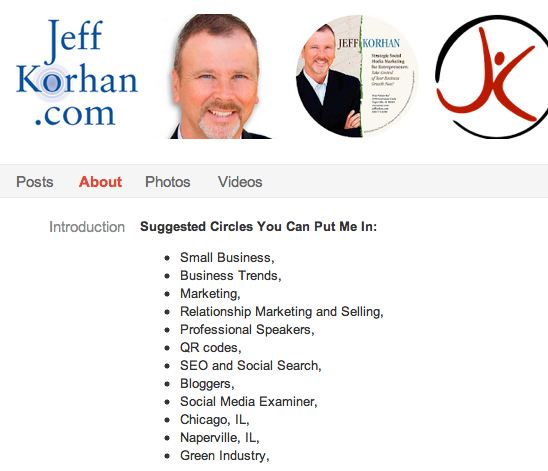 Add recommended links. Connect with the rest of your web presence: your blog, other social networks, websites, articles, videos, etc.
Create inbound and outbound circles. This is a great tip from Chris Brogan's book, Google Plus for Business. Although Google does not recognize the difference between circles, you can create separate circles for reading information on your home screen, and sharing information–privacy settings on content you publish.
Examples of Hotels using Google Plus
As I write this, there are still far too few hotels actively engaged on Google Plus. It's the early adopters who are taking advantage of the opportunity. Here are three hotels you could follow for inspiration:
Corinthia Hotels
Mandarin Oriental
Fierro Hotel
For more examples, we put together a huge list (circle) of 400+ hotels on Google Plus.
Content That Works on Google Plus
As we saw through some of these examples, the fundamentals of publishing to Google Plus really isn't that different than on any other social network. Extend your overall content and community strategy to this network, while considering its unique advantages and opportunities.
As on Facebook, photos are currency on Google Plus. Communicate your message visually wherever possible.
Google Plus provides a little bit more room to share content – especially compared to Twitter. So the fact you are not limited to 140 characters means that you can elaborate a little bit more and share more text. Don't get carried away, but include enough information in your posts to arouse interest. This may mean posting a summary of an article you're linking to rather than just the headline. (An all-too-common mistake on Twitter.)
Don't feel you have to stay 100% on-topic about your hotel at all times. Some of the most popular accounts frequently share material that simply interests them. Something cool and funny. But always provide value. Make the lives of your audience better as the result of reading your material.
Chris Brogan wrote a concise summary of the ingredients for community on Google Plus – or any social network:
Community: It takes precedence above audience.
Campfire: It's something to gather around.
Connections: Create them between members of your community and share your network.
Continuity: Keep things consistent; blend the offline and online worlds.
Content: Make your posts interesting.
Concepts: Educate others and empower them
And my favorite quote from Brogan:
"Attention is a gift. Appreciate the hell out of your community."
Building your Google Plus Presence
Once you have your page set up, have some initial content posted, it's time to think about audience building. Here's three tips to get you started.
1) Add a Google Plus widget to your website. Here is the tool you need to use.
2) Encourage "+1's." HubSpot reported that websites that use Google's +1 button generated 3.5 times more traffic from Google+ than websites that don't have the button installed. Create a button now.
3) "Circle surf" – browse the connections of your contacts & interesting people to find other people of interest to "circle." (Remember, when using a business page, people must circle you first before you can reciprocate – so experiment with this technique on your personal profile.)
How To Measure Success
If you're looking to measure success with numbers, Christopher Penn wrote a good tutorial about understanding Google Plus analytics.
In the end, though, measuring ROI on Google Plus requires a similar approach to what you would use on any other social network. Measure progress towards business goals. Measure effectiveness of campaigns. Understand how it fits into your larger marketing and communications and service mix. Define and track KPIs that relate to those areas.
Fitting Google Plus In With The Rest Of Your Marketing
As we tie this all together, it's useful to understand where Google Plus fits in with the rest of your social media and marketing program. It's an extension. It's an outpost. It's what many see as the best way to share and connect online today.
While you can reuse some of the content and stories you post on other networks, think how you can give it a unique twist on Google Plus.
Again, the big play here is using Google Plus to expand your presence in the vast network of Google services. It's increasing the chances of prospects finding your business because of increased visibility in search results pages, and then using highly-targeted content sharing options to nurture the relationship with your brand before, during, and after a guest stays at your hotel.
—
For advice on how this fits in with the rest of your social engagement program, and tips for making it a bigger parts of your business, contact us now.